Slovenian National Party (Slovenska nacionalna stranka, SNS)

The Slovenian National Party (Slovenska nacionalna stranka, SNS) was founded in 1990 and is led by Zmago Jelinčič infamous for his racist statements about minorities such as Blacks and Roma. The SNS is an anti-clerical nationalist party which has two main elements to its nationalism. One is irredentism which is discernible from the SNS party logo showing a map of historical Slovenian counties drawn in 1853, including not only present day Slovenia, but also parts of neighboring counties in Austria Carinthia, Croatia Istria, and the Italian Furlania-Julian region. The other is economic, and is focused on people from other former republics of Yugoslavia, who had migrated to Slovenia in the 1960s and '70s mainly in search of work in times of economic development.
The SNS enjoyed the highest level of support at the 1992 general elections when it had a 10.02% vote share. After the millennium, the party achieved its best result in the 2004 general elections with 6.27%. Since 2004 its voter base has been on a steady decline, reaching the nadir at the 2011 parliamentary election when the party, receiving but 1.8%, was forced out of Parliament. With a vote share of 2.85% in the 2009 EP election, the party failed to capture a single seat in the EP. The SNS describes the European Union as a "neo-colonialist" power questioning national sovereignty. Moreover, the party criticizes the Union's expansion policy, especially when it comes to Croatia.
Sources:
- Cas Mudde (ed.): Racist Extremism in Central and Eastern Europe. Oxon: Routledge, 2005, pp. 245-246.
- Political Capital
SNS on the Internet:
European Parliamentary elections - May 25, 2014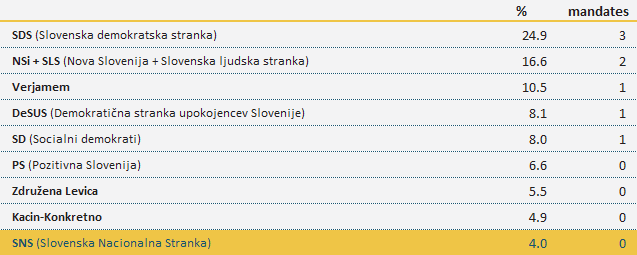 Parliamentary elections - December 4, 2011


European Parliamentary elections - June 7, 2009


Parliamentary elections - September 21, 2008

Source: National Electoral Commission