National Union (האיחוד הלאומי, Haihud Haleumi)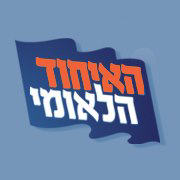 Coming soon...
Haihud Haleumi on the Internet:

Power to Israel (Otzma LeYisrael, OLY)

Power to Israel (Otzma LeYisrael, OLY) is a right-wing, nationalist party that was established towards the end of 2012, in advance of the elections for the 19th Knesset. The list is made up of representatives of the Hatikva party and of a group that split off from the Eretz Israel Shelanu party – two small parties that were part of the right-wing National Union list in the 18th Knesset. As a radical right-wing party, Power to Israel calls for the annexation of Judea and Samaria and for the extension of Israeli rule to all of the areas between the Jordan River and the Mediterranean Sea. The party rejects the idea of a Palestinian state, demands the cancellation of the Oslo Accords, and calls for imposing Jewish sovereignty over the Temple Mount, a common Jewish-Muslim religious site in Jerusalem. In the area of education, the party advocates teaching Jewish history in depth and including lessons in elementary school education that will strengthen and deepen Jewish identity in students.
OLY on the Internet:
Source: