Danish People's Party (Dansk Folkeparti, DF)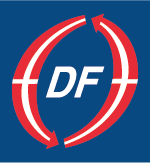 The Danish People's Party (Dansk Folkeparti, DF) was founded in 1995 and its policies primarily relate to the protection of Danish identity and heritage, with a particular focus on limiting immigration and rejecting multiculturalism. It wages a strong campaign against the integration for newly arrived immigrants, and to ensure the education system instils appreciation for and knowledge of Danish history, culture, and language. The Party also articulates a strong critique of what it sees as the EU's attempts at eroding national aspirations, and it openly supported the publication of the Mohammed cartoons. But similar to other more established parties, the DF goes beyond discussing immigration and its rhetoric, their vision also includes a leftist socio-economic agenda. It advocates the expansion of the welfare state, particularly for older people. It also considers itself to be socially conservative, supporting the institution of "the family," the monarchy, the Church of Denmark, animal rights and the environment. The party was led by the charismatic and popular Pia Kjærsgaard until 2012 (and now serves as the Speaker of the Danish Parliament), who, prior to entering politics, worked as a care assistant in old people's homes, and is often recognized for her "housewifely" skills. The party is currently led by the 45 year-old Kristian Thulesen Dahl, described by the Guardian as "soft-spoken and plausible."
Since the 2001 general elections the party has maintained a steady support base of over 10%, receiving 12.3% in the most recent 2011 election. With this, it is consistently the third most popular party in the country. In the 2009 EP elections it did even better with 15.3%, and based on recent, February 2014 polls, it was the second strongest party with a share of 17.4%, ahead of the Social Democratic Party. Thanks to its steadily rising popularity, the DF is in a strong bargaining position; supporting the conservative/liberal coalition government from outside, it managed to implement some of its policy-ideas, one of them being one of Europe's toughest immigration laws.
In regards to the European elections, the Danish People's Party is in favour of an open and democratic cooperation with the free and independent countries of Europe, but it opposes the expansion of the European Union, and fights all attempts for the creation of a European federal state, as stipulated by current EU treaties.
The 2015 campaign was clearly dominated by economical and migratory topics. The DF focused mainly on stricter immigration control, suggesting the re-instatement of border control as well as new measures to reduce Denmark's appeal for asylum seekers which would mean lower allowances for new-comers and granting permanent resident visas strictly to new-comers who already have found work and speak Danish. The DF being a Eurosceptic party also campaigned to keep all Danish opt-outs from the EU treaties and to stay out of the euro. The party agreed prior to the elections to support UK leader David Cameron on EU reform by creating their own Danish EU reform, which aims to use Cameron's EU reform to restrict free movement between EU countries when it comes to benefits and welfare.
The general election in 2015 saw the Danish People's Party becoming the second-largest force in the nation with 21.1% of the vote. Due to the peculiarities of the Danish political system, where minority governments are the norm, which are usually supported by a right or left-wing coalition, the DPP became a kingmaker after the election. Venstre (a centre-right party) went on to form a minority government, which depends on the votes of the Danish far-right in Parliament, meaning that the DPP bears influence over the Danish government's policies. A good example of such influence is the DPP's announcement on 27 January 2016, in which they promised further asylum restrictions a day after a bill allowing for the seizure of the valuables of refugees. Martin Henriksen, DPP spokesperson on refugee issues, claimed that the party had reached an agreement with the government on lowering the social benefits for those granted asylum under the previous centre-left administration retroactively. Henriksen stated that they influenced the government in "several different areas and we see than as our job" and added that "a lot of the curbs adopted yesterday have only been introduced because the Danish People's Party has pushed for them."
(Last update on 8. April, 2016)
DF on the Internet:
Sources:
- Jamie Bartlett et al.: "Populism in Europe: Denmark." Demos: London 2012, p. 21-23. Available online at http://www.demos.co.uk/publications/populismdenmark
- The Guardian: Danish rightwinger Kristian Thulesen Dahl rides high on populist tide. Available online at http://www.theguardian.com/world/2015/jun/19/denmark-kristian-thulesen-dahl-populist-tide
- The Guardian: Why the Danish People's party will do better sitting on the sidelines. Available online at http://www.theguardian.com/commentisfree/2015/jun/19/danish-peoples-party-denmark-government
- The Local: Danish People's Party: More asylum restrictions coming. Available online at http://www.thelocal.dk/20160127/danish-peoples-party-more-asylum-restrictions-coming
- Political Capital
Parliamentary elections - June 18, 2015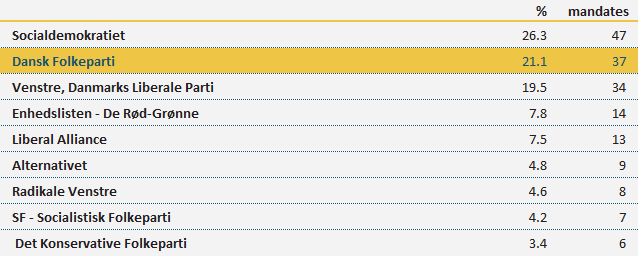 European elections - May 25, 2014


Parliamentary elections - September 15, 2011


European elections - June 7, 2009


Parliamentary elections - November 13, 2007

Sources: Statistics Denmark, Electionresources.org